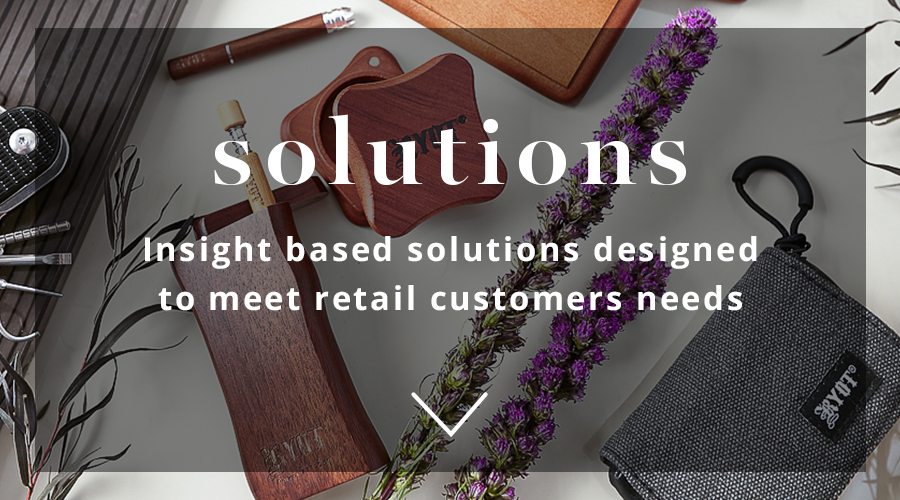 Curate the best product portfolio
We work with over 200 industry leading brands and offer our customers a selection of more than 10,000 high-quality products. Our team of experts will work alongside you to understand your target audience and select products that best suit your customer's needs. As a retailer, you don't want to worry about products sitting in a warehouse, work with humble+fume to select the products that will fly off your shelves.

Customize retail displays
We design customized sales sheets to display in your retail store to help educate customers and boost sales. Our retail solutions team understands the pain points consumers are facing. We work hard to cut to the chase when it comes to product descriptions and bring to light how our products will benefit your consumers.

Support staff training
Building on your cannabis foundation, our team of experts offer an accessory specific education program. We believe that pairing customers with the right accessories is at the heart of contemporary cannabis enjoyment. We want to ensure your staff build shopper loyalty through their deep product knowledge. That's why we work with you to educate your team on product updates and best practices.

Create your own exclusive products
When it comes to branding in cannabis, the options are limited that's why we offer retailers the opportunity to create new and unique products. We allow retailers the possibility of creating combo packs or even changes to the original product packaging. We want our retailers to have the edge on their competition and keep customers coming back for more.

Category Management Expertise
We apply shopper and category insights to ensure that your business provides solutions to all your shoppers accessory needs. Using our proprietary approach, we ensure you satisfy the full range of your shoppers needs.